Qualitative Face Fit Train the Tester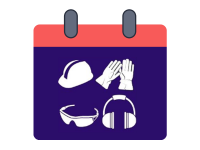 From July 05, 2022 08:30 until July 05, 2022 16:00
Course Prices and Availability

| Booking Type | Course Price (ex VAT) | Max No of Delegates | Places Remaining |
| --- | --- | --- | --- |
| Delegate rate | £125.00 | 8 | 8 |
Max Number of Delegates: 8
Duration: 1 Day
Length of Certification: 3 Years
Accreditation: Certificated
Who Should Attend?
This course is for anyone who needs to carry out a Qualitative face fit test on employees e.g. managers, Health and safety departments etc.
Aim
By the end of the course the delegate will be able to carry out Qualitative face fit testing on employees needing to wear half masks and filtering face pieces, feeding back to employers and employees following the test.
Content
Why we face fit
Types of face fit tests
RPE that can be tested with a Qualitative face fit test
What is involved in carrying out a face fit test?
Practical face fit testing
Feeding back to the wearer following the test
How to complete the test records and feed back to the employee
Training Methods
A high proportion of hands-on demonstrations and practical exercises, supplemented with classroom based tutorials.
Additional Information
If you are supplying RPE, it is vital that the selected RPE is adequate and suitable for the purpose. Respiratory protective equipment must reduce exposure as low as reasonably practicable, and in any case to an acceptable level (e.g. below any applicable Occupational Exposure Limits or Control Limits). To make sure that the selected RPE has the potential to provide adequate protection for individual wearers, the ACoPs supporting Control of Substances Hazardous to Health Regulations 2002 (COSHH), Control of Asbestos at Work Regulations 2002 (CAW) and Control of Lead at Work Regulations 2002 (CLAW) recommend fit testing of RPE which incorporate a tight fitting face piece (see note below). This will help to ensure that inadequately fitting face pieces are not selected for use.
Note: A tight fitting face piece is a full-face mask, a half facemask, or a filtering face piece (commonly referred to as a disposable mask). The performance of these types of face pieces, irrespective of whether they are used in negative pressure respirators, power assisted respirators or compressed air supplied breathing apparatus, relies heavily on the quality of fit of the face piece to the wearer's face. An inadequate fit will significantly reduce the protection provided to the wearer.
HSE operational circular 282/28